In addition to connecting to the Acterys database from scratch from Power BI, Acterys offers comprehensive Power BI templates.
The Acterys Power BI Template Apps are the easiest way to generate a comprehensive set of Power BI reports for your HubSpot, MYOB, NetSuite, QuickBooks, Xero, WorkflowMax or Xero Practice Manager data.
Note: This App connects to your Acterys repository, not to the source accounting/SaaS systems directly. If you have not imported the data from Xero to Acterys using the process described in the points below the Power BI App report will only show sample data. If you want to use the App with your own data add your service (e.g. MYOB, NetSuite, QuickBooks, Xero, etc.) in the "Integration" Menu.
Installing The Acterys Power BI Apps
There are a few ways to install the App:
a. Open the Power BI Apps link in the Acterys Integration menu: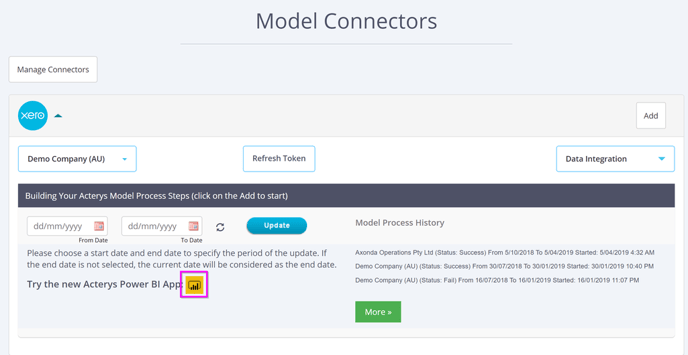 or
b. Get the App for your desired system from the Marketplace:
Click on "Get It Now"
or
c. Get the App in Power BI in the Apps section and choose from Marketplace: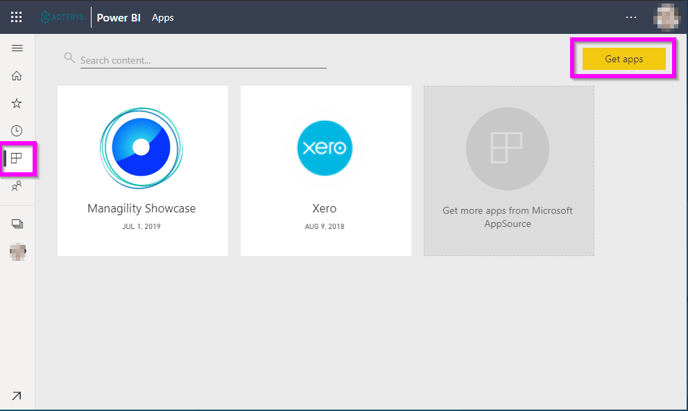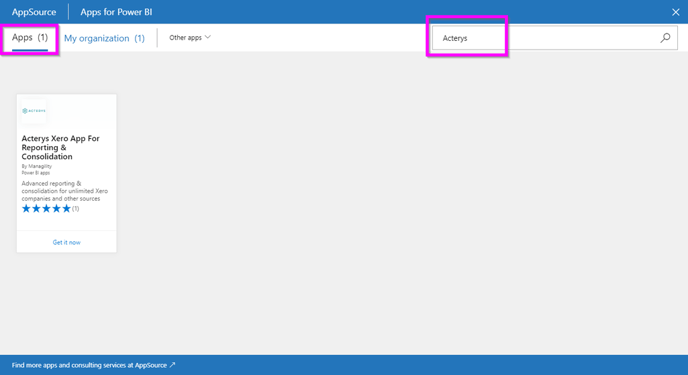 2. Install the App in a Power BI workspace of your choice
3. You can then explore the demo data in the Power BI dashboard and report
4. To use your own data click on the "edit" option or follow the "Connect Your Data" prompt in Power BI. After that, you will see the following dialog box where you just need to enter your database name, normally starting with "AP_"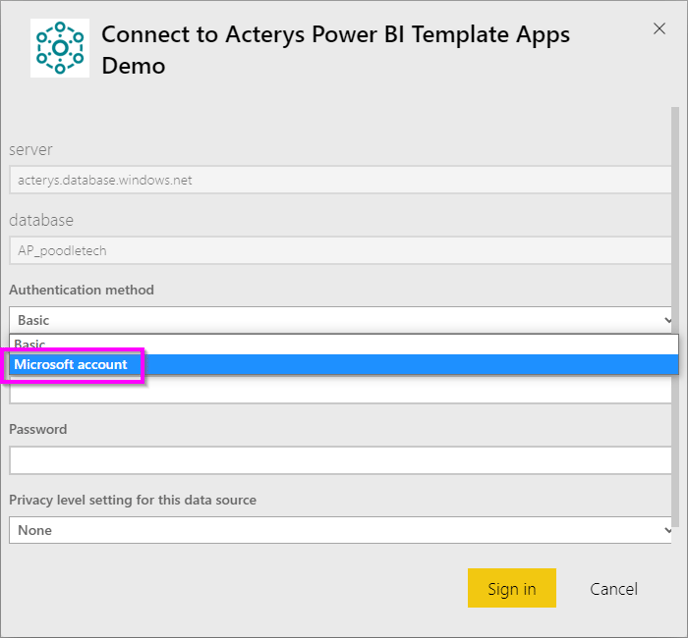 The Acterys Server is acterys.database.windows.net for most of the cases correct (unless you are using the on-premise version)
"Group Country" box is a free text for your default country which is only relevant for plotting in maps (setting the default country)
Select "Microsoft Account" (or "Oauth2") in the Authentication method dropdown.
The Authentication method always needs to be "Microsoft Account" or "Oauth2"
5. Sign in with your Acterys user name. Normally in the convention
Yourdatabasename@acterys.onmicrosoft.com
Following this, you can access the App and the related report and dashboard in the workspace that you have created with all report pages connected to your data. You can edit some areas and add new reports but some functionality is only available with the full PBIX file that is only available with paid subscriptions.
The related fully editable Power BI . PBIX file is only available with paid subscriptions.